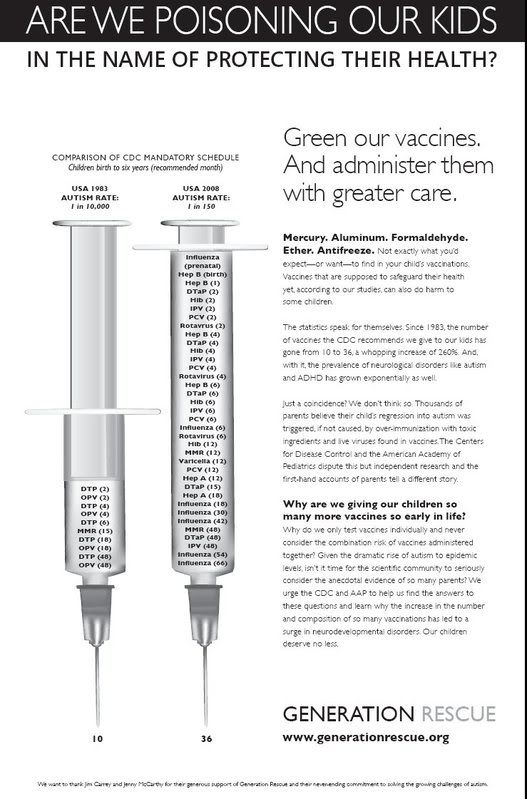 Thanks to the Schafer Autism Report for posting this article.

Jim Carrey and Jenny McCarthy Place "Green Vaccine" Ad in USA Today

"Are we poisoning our kids In the name of protecting their health?"
"Green our vaccines. And administer them with greater care."
"Mercury. Aluminum. Formaldehyde."
"Ether. Antifreeze. "
"Not exactly what you'd expect—or want—to find in your child's vaccinations.
"Vaccines that are supposed to safeguard their health yet, according to our studies, can also do harm to some children.
The statistics speak for themselves. Since 1983, the number of vaccines the CDC recommends we give to our kids has gone from 10 to 36, a whopping increase of 260%. And, with it, the prevalence of neurological disorders like autism and ADHD has grown exponentially as well.
Just a coincidence? We don't think so. Thousands of parents believe their child's regression into autism was triggered, if not caused, by over-immunization with toxic ingredients and live viruses found in vaccines. The Centers for Disease Control and the American Academy of Pediatrics dispute this but independent research and the first-hand accounts of parents tell a different story."
see full ad at www.generationrescue.org/pdf/080212.pdf
-------------------------------------------------------------------------------------------------
All information provided or published by Unlocking Autism is for information purposes only. Under Unlocking Autism Option Policy you are responsible for the choice of any treatment or therapy option or service provider. Specific treatment, therapy or services should be provided to an individual only at the direction of the individual's doctor, caregiver, or other qualified professional. References to any treatment or therapy option, program, service or treatment provider are not an endorsement by Unlocking Autism. References of treatments, therapies, programs, services, and/or providers are not intended to be comprehensive statements. You should investigate alternatives that may be more appropriate for a specific individual. Unlocking Autism assumes no responsibility for the use made of any information published or provided by Unlocking Autism.
www.unlockingautismstore.org
Visit Foggyrock.com to connect with other individuals who share your heart and passion for autism. Registration is quick and easy and allows you to participate in forums, blogs, sharing photos, sending messages and access to the latest news in the autism community.
www.foggyrock.com